FlowLab is a comprehensive software for creation, simulation and control of pneumatic and electro-pneumatic circuits . Arbitraty pneumatic circuits and electro-pneumatic controls can be created using the intuitive editor.
Create GRAFCET plans and use them to describe the workflow of the pneumatic circuits or execute them as controls on your systems.
Use the pneumatic-lab for training or for the design and / or simulation of industrial pneumatic systems.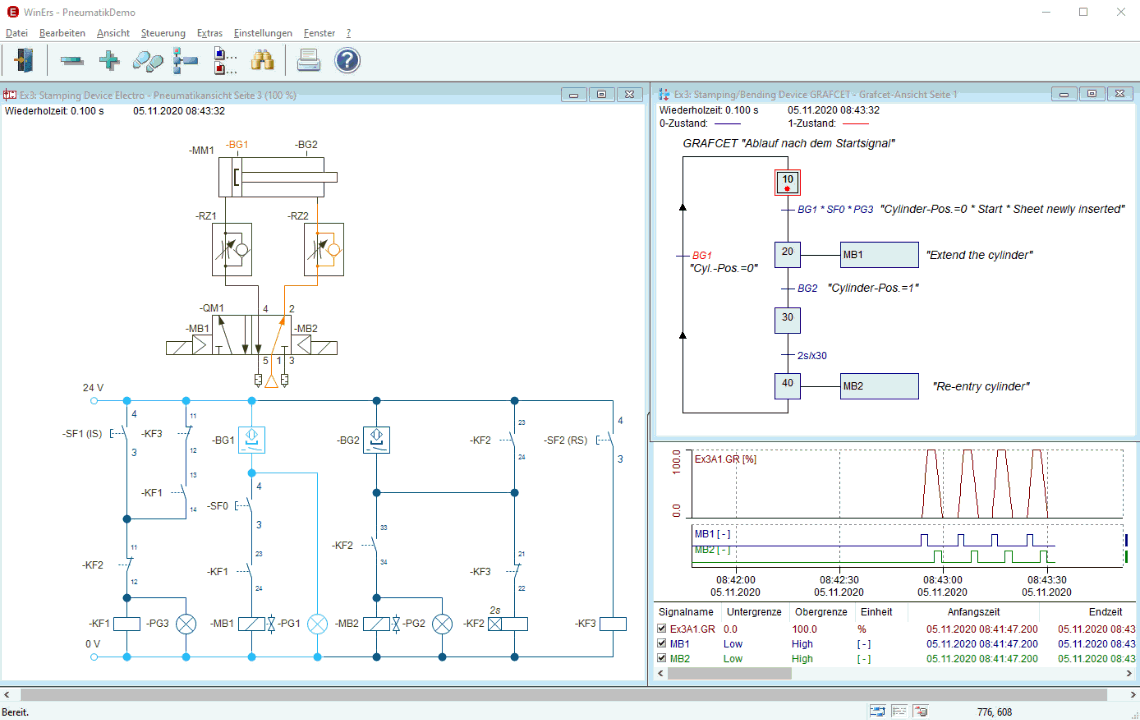 Pneumatic Editor
The editor contains an extensive library of pneumatic elements. Various settings can be made for the individual components.
For electro-pneumatics, electrical circuits can be created with the editor. Their signals are directly linked to the pneumatic components.
Simulation
Simulate the created pneumatic circuits and display their behavior. For this, it is first automatically checked whether the page contains errors.
By setting signals, positions, switching states, pressures etc. can be recorded, saved and analyzed as measured values . Graphic and numerical evaluation tools are available for this.
GRAFCET
GRAFCET is a graphic technology-independent description language standardized according to EN 60848 for the representation of processes, controls and process controls.
The GRAFCET module has been used in many different ways in industry and training for many years. Use the plans to describe the pneumatic circuits or carry them out as controls on your systems.
Create standard-compliant GRAFCET plans with the GRAFCET editor .
The individual elements can be selected from the toolbox and placed anywhere in the editor using drag & drop
Conditions of the various elements can be specified individually
Insert comments
The process can be simulated at the push of a button. The plans can now be monitored in the GRAFCET view.
Parallel simulation to pneumatic simulation
Direct comparability of the pneumatic and GRAFCET states
Process Visualization
With process visualization, you create your own process displays for observing and operating the simulated circuits or for monitoring real systems and pneumatic circuits.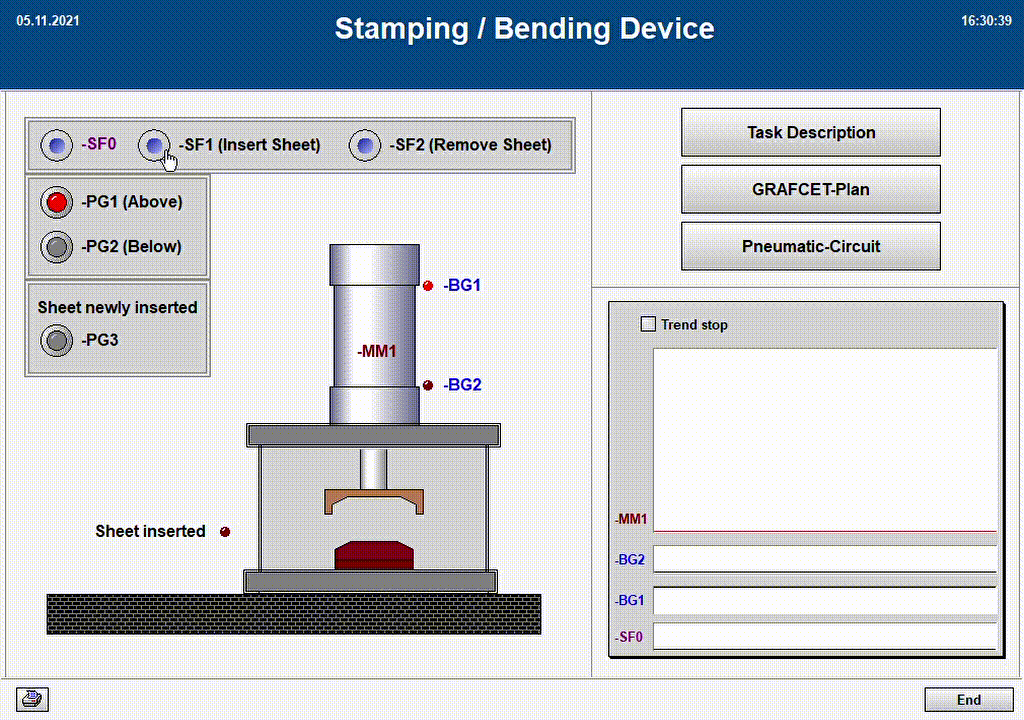 Key Features
Graphic design of pneumatic circuits
Symbols according to the DIN ISO 1219-1 standard
Simulation and test of the designed pneumatic plans
Design and simulation of electropneumatic circuits
Measured value acquisition and analysis
Process visualization
Detailed documentation and help
Independent learning and working
Including introductory tasks and examples
Order Details:
Companies:
Single license: 600,- € net
Each add. license: 200,- € net
Schools:
Single license: 450,- € net
Each add. license: 175,- € net
Order hotline / Service:
+49 (0)40 - 754 922 30
Related Products:
GRAFCET Laboratory Version: WinErs laboratory version limited to GRAFCET [more].

WinErs Simulation Version: WinErs laboratory version limited to simulation [more].
WinErs: Modular SCADA system [more]
Mehr Information:
For further information please contact us [How to reach us].